Host a Downtown Pittsburgh meeting in style
Practicality has its place when you're planning a meeting. You look for flexible space, chef-inspired banquet menus and attentive, genuine service. Check, check and check. But here at Kimpton Hotel Monaco Pittsburgh, we like to add a little moxie to your meeting. Our Beaux Arts architecture goes a long way in achieving that allure — case in point, even the ballroom foyer is fabulous, with its two-story columns and ornate ceiling woodwork. Speaking of ballrooms, take a peek below at the two we offer, along with boardrooms and a city-view rooftop for your gathering pleasure.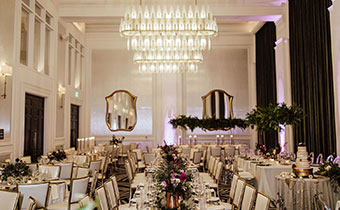 Ballrooms
Not to go all fancy on you, but our ballrooms are dressed for your success. The Sheffield Ballroom's ample 2,337 square feet surrounds your group with two-story windows and chandeliers hanging from a Beaux Arts ceiling. Our Sofia Ballroom is like the Sheffield's little sister, with a just a little bit less square footage but all the glamour.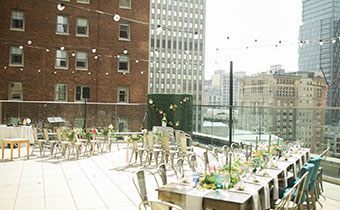 Rooftop & Outdoor Space
Getting down to business sometimes means lifting your team up — as in skyward. Our Rialto Suite gives you indoor space that opens up to the outdoor Rialto Rooftop, for a total of 1,409 square feet. Nearly as spacious is the adjacent Emperor Rooftop, overlooking the city in alfresco glory. To really make a statement, book all three for 2,624 square feet of sky's-the-limit inspiration.
Meeting Rooms
Options abound when it comes to private meeting rooms. Clemente is the largest, with over 1,400 square feet of space, gold-trimmed seating and lots of natural light. Salk is slightly smaller and carries the same vibe. Carson is our most intimate space whereas Fahlman is your classic boardroom, with cushy chairs for plotting corporate coups in comfort. All of our meeting rooms are located on the lobby level for convenience.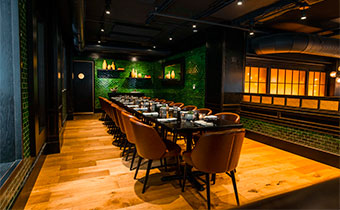 Semi-Private Dining Space
We can't forget about the business of wining and dining 'em. The Overlook semi-private dining space is tucked away above The Commoner's dining room to offer a bit of privacy for groups of up to 22. Add to that customizable menus for any occasion, from cocktails with colleagues and clients to birthday parties and rehearsal dinners, and you've got a truly elevated event (literally and figuratively).